AVAILABLE SPACE: HEADQUARTERS 7'300 m²



Plug & play headquarters solution with state-of-the-art infrastructure
Feeling comfortable made easy: With the showroom, the up-to-date and fully equipped offices and meeting rooms, your own employee restaurant and a Zen roof garden, your new headquarters leave nothing to be desired.
Here are nice-to-haves common standard: We offer you the chance to obtain fully developed, exclusive head offices for your company, easily and fast, and state-of-the-art. If you are looking for a spacious, modern domicile for your company, NEO Winterthur definitely is the place to be. The impressive premises with the distinctive character are progressive, extraordinary and simply striking. Due to the spectacular showroom with 14m ceiling height and a 40t hoisting crane, NEO is perfectly suitable as an international and innovative head office. The opportunities are countless and the space is multifunctional. Comfortable cosiness meets outright flexibility: Experience it for yourself!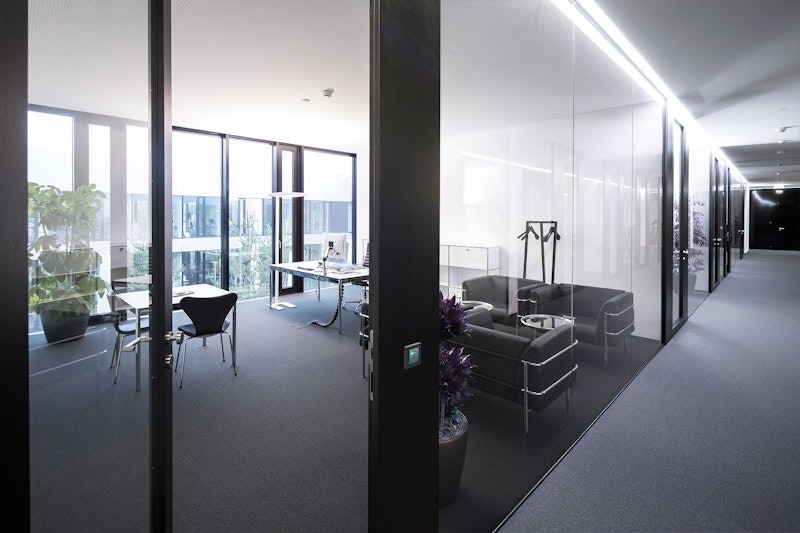 Prestigious & ModernAre you looking for a new head office? Here you find innovation and sustainability combined in an exceptional architecture with maximum comfort.
Available space
| Option | Floor | Total space | Rent | |
| --- | --- | --- | --- | --- |
| AA01 | UG – OG 4 | 7'300 m2 | On request | |
FLÄCHE AA01
Floor:
UG – OG 4
Space:
7'300 m2
Rent:
On request
BESCHRIEB FLÄCHE:
Ihr neues Headquarter verfügt über fünf Geschosse, und jedes Geschoss bietet jeweils ein weiteres Highlight, dass Sie zum Staunen bringt.

Im Untergeschoss befinden sich insgesamt 39 Parkplätze und diverse Lagerflächen. Zudem befinden sich um das Gebäude zusätzlich 63 Parkplätze.

Das Erdgeschoss verfügt über einen grosszügigen Empfangsbereich mit Wartelounge und einen imposanten Showroom mit einer Raumhöhe von 14 m und einem Hallenkran.

Auf dem 1. Obergeschoss befinden sich die Restaurationsfläche, die Galerie sowie zwei voneinander flexibel trennbare und vollausgestattete Konferenzräume für bis zu 200 Personen.

Auf den Geschossen 2 bis 4 befinden sich die Büroflächen. Vom 2. Obergeschoss kann man auf einer Höhe von ca. 14 m in den Showroom blicken. Das 3. Obergeschoss bietet einen Zen-Dachgarten, der als Kreativ- und Erholungsbereich dient. Das 4. Obergeschoss verfügt neben klassischen Büroflächen auch über den Executive-Board-Bereich mit Blick in den Dachgarten.
AVAILABLE SPACE FOR HEADQUARTERS